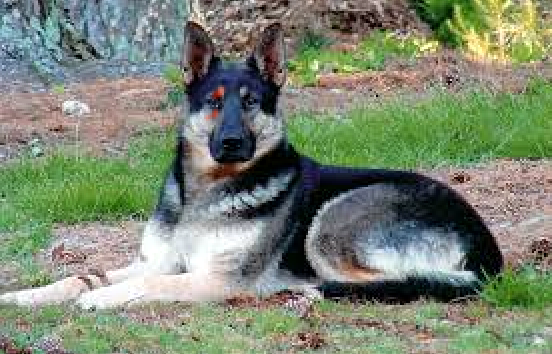 Name; Shadow
Nickname; Shady, call him that and he'll rip your pelt off though
Gender; Male
Age; 5 years
Immune, infected, not infected; uninfected
Breed; German Shepherd
Description; Shadow has medium lengh fur that is black and tan with a little grey. His eyes are a stormy grey. He has a scar over his right eye which always seems to be an inflamed red. His right eye is blind and seems to be a milky white color, his chest has an unearthly white mark on it that almost looks like an eagle, the tip of his tail is also white. He has black claws and teeth so white they could blind any creature that caught a glimpse of them.
Personality; Shadow can luer in others with his charming smile and eyes before he attacks. He prefers strategy over blindly attacking an enemy, but he's still a vicious fighter. He uses the hack and slash method. Fighting's the only real thing he seems to enjoy. He's treacherous and hates what he's become, but he's given up trying to fight it. He's waisted the last two years trying. He still gives mercy to the weak, but if they bite him he'll tare them up.
History; Shadow was born in an abandoned house, right after the humans wiped themselves out. He lived in the house with his mother Shilo, and his father Shadix. One day his father was bitten by a rabid dog, Shilo had tried to protect him but ended up dead, a bite to the throat. Shadow had watched his mother bleed to death on that cold floor that winter morning. He had launched himself at his rabid father after his mothers last breath had ended and was hit to the floor, gaining a scratch across his eye and causing it to go blind. He had scurried away before his father could bite him. He's faught his way to where he is today, he earned himself a reputation and aims to keep it.
Family; Father- Shadix- Unknown, Mother- Shilo- Deceaced
_________________